Training & Consultancy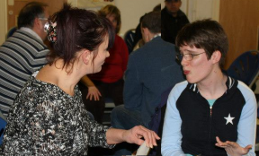 We are a leading provider of training in the health and social care sector. As well as being able to provide many of the mandatory training solutions you require, we specialise in designing and delivering training which enhances the quality of the services you provide. The training we provide to your staff will ensure that your organisation offers person-centred and positive support to its customers, with a positive values base and the right philosophy. We can design, create and deliver training and support directly to your organisation, either from our catalogue of courses, or developed specifically for you, or you might want to enable hand-picked members of your team to attend some of our open courses which we run regularly.
Example of courses available:
Values and principles of good quality support
Person Centred Approaches
Person Centred Planning
Personalisation
Autism and Aspergers Awareness
Behaviour as Communication
Fragile X Syndrome Awareness
Prader-Willi Syndrome Awareness
Risk and Safety Assessment
What is Supported Living?
The History of Learning Disability
What is Learning Disability?
Creating Easy Read Information
Person Centred Care and Care Planning
Support Planning
Learning Disability and Mental Health Awareness
Sexuality and Relationships (Learning Disability)
Supported Decision Making
Mental Capacity Act
DOLS (Deprivation of Liberty Safeguards)
Inclusive Recruitment
Inclusive Leadership
Total Communication
An Introduction to Gentle Teaching
An Introduction to Intensive Interaction
Safeguarding of Vulnerable Adults (SOVA)
Community Mapping and Community Bridge Building
Consultancy:
Through years of experience gained in all areas of social health, our teams are able to offer your organisation a wealth of help and guidance in a number of areas including:
Independent supervision, advice or mentoring for managers, owners, directors and trustees/management committees of organisations/charities/social care providers.
Independent quality inspections of services which are conducted by our consultants, including "experts by experience", people who have experienced the delivery of services first hand.
Mentoring in the skills outlined in the training.
Creation and facilitation of self-advocacy groups.
Advocacy
Creation of person centred support plans/individual life plans such as service designs and working policies.
Inclusive, person centred recruitment and selection.
Interview training for people with learning disabilities
Design of bespoke job descriptions and person specifications
Research and report writing
"Translation" of documents, policies, letters, legislation etc into easy to understand formats such as the use of photographs, symbols, illustrations, plain English etc.
Trouble-shooting and advice in modernising and improving services for people with learning disabilities.
Organisational change through person centred approaches.
Person centred management.
For more information please call Kathi Connick on 07809 624830 or alternatively you can contact us by email here.